My Review of 'Watching the Wheels' by Damon Hill
It initially took me a while to really get into this book. On reflection, I think this is because I didn't know much about Damon – he won the World Championship eleven years before I was born, so I haven't cheered him on throughout his career.
However, his book is not just about his career, which I appreciated because my main complaint with motorsport autobiographies is the "in this race, I came in blank position" format of writing. As a reader, I find that incredibly dull and prefer a more personal approach. Watching the Wheels was that for me; a frank portrayal of both Damon and his father Graham's lives, inside and outside of racing. The book is raw and unwaveringly honest. However, it wasn't quite what I expected.
I thought I was going to read a book predominantly about Damon's time in F1 and his successes. Instead, he chose not to discuss his first full-time F1 drive until around the halfway mark. The entire first section of Watching the Wheels is about the often-strained relationship between Damon's parents, Graham Hill's passing and the aftermath of it all. Despite going into the book to learn more about Damon's racing achievements, I found these initial parts to be some of the most insightful.
As I've touched on earlier, because Damon's racing was before my time, I've never watched any of his races live. Reading his recaps of some critical drives throughout his F1 career astounded me. That's because despite hearing about the dangers of racing in the 90s, I didn't quite grasp just how many fatal incidents occurred until I read this book.
At the time of Ayrton Senna's crash in 1994, Damon was his teammate. He describes on page 231 "a sense of utter disbelief" that "spread throughout the paddock" following Senna's death. Damon went on seven pages later to write, "With the loss of both Roland Ratzenberger [an F1 racer who passed away a day before Senna] and Ayrton Senna, there could not have been a more profound demonstration that no one in motor sport is immune. Back of the grid or front of the grid: everyone is vulnerable." I cannot imagine (nor do I want to) the pain and grief a weekend such as Imola 1994 brings. It must be absolutely heart-wrenching.
But amid the tragedies, Damon persevered.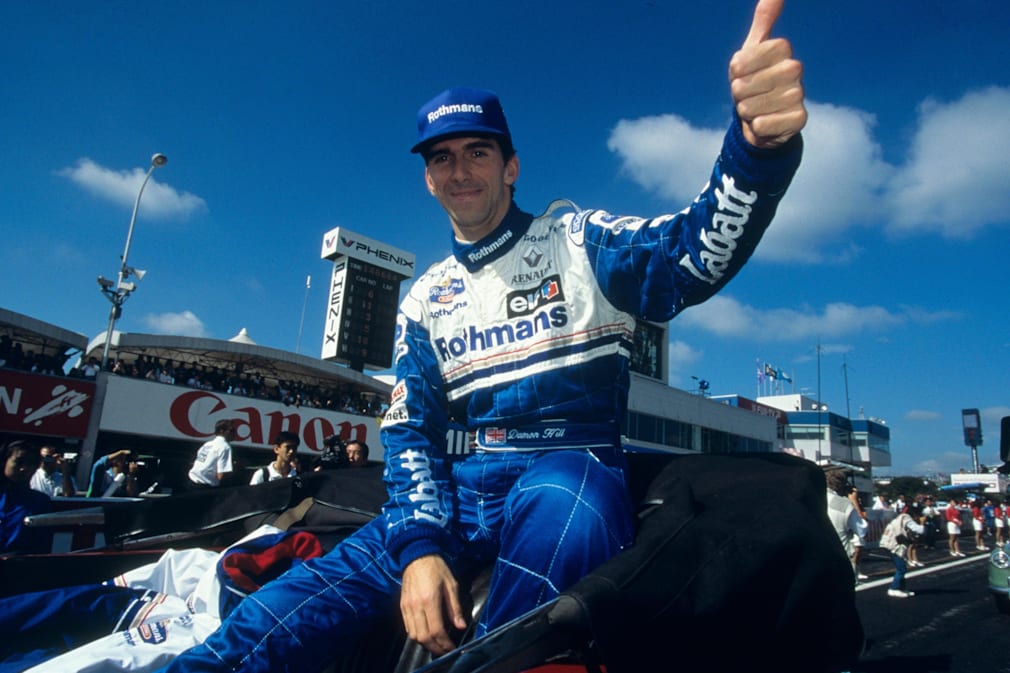 In 1996, Damon won the Drivers' Championship at Williams. After three largely fruitless years (with a high of one win in 1998) at Eddie Jordan's Arrows F1 team, Damon retired from F1 in 1999.
Going from the fast-paced atmosphere of F1 to regular life is a challenging task for many racing drivers. In the years following Damon's F1 leave, he developed depression and chose to speak to a therapist. Towards the end of Watching the Wheels, Damon also opened up about his worry of dying unexpectedly as Graham Hill had in a 1975 plane crash. In his book, Damon recounted a planned flight to France that he couldn't bring himself to go on. He wrote, "It wasn't that I was scared for myself; it was the fear of inflicting on my family the same godawful experience that I had gone through in November 1975."
Later, he told the story of the day his mind became at peace with himself after struggling with depression. ". . . I realized that the universe could not be complete without me in it. I was meant to be; this is all meant to be."
4 out of 5 stars
Cover Image: Damon Hill after winning the 1994 British Grand Prix at Silverstone. Credit: PA.