My Top 5 Moments of the 2021 F1 Season
It feels a bit like a full circle, writing this post. After all, its 2020 equivalent was my first ever blog post. My first of thirty-three posts here on On The Pit Wall. Thirty-four now. What a season this has been, it's been an honour to experience it with the eyes of someone still rather in awe of the sport, a fan watching her first full season. In this post, I'm going to recap some of my favourite moments of the season, and yep, I'm going to get extremely sentimental. Enjoy, guys.
---
1. That Monaco Podium
In what was admittedly quite a dull race, the podium celebrations really pulled through for me. If there's one thing Monaco knows how to do, it's to make everything incredibly extra. With Lando (P3) and Carlos (P2) on the podium together, fans went wild. And who can dismiss how wholesome those post-race interviews were? F1 even made a video about it. It was great to see Lando and Carlos both earn their third F1 podium finish. Definitely a fun highlight for me.
2. Double points for Williams
After a years-long points drought for the Williams team, it was incredible to see Nicholas and George place P8 and P9 respectively at the 2021 Hungarian Grand Prix. Both drivers benefitted from avoiding the first-lap incidents and were elated over the team radio as the checkered flag was waved. George and Nicholas spoke from the heart, with George stating "I'm so happy for everyone and I'm a bit lost for words," with Nicholas echoing those comments, "It is an amazing result for the team, and I am so happy for us."
3. Ocon's Hungary win!
In a year that brought so many talents onto the podium, I was pleasantly surprised to see Ocon really show his skills with his first win in F1. After having to take a year out of F1 in 2019, earning his first Grand Prix win as his second podium in the series is incredibly impressive. Massive congrats to him and the entire Alpine team. Their hard work is evident.
4. McLaren's Monza success!
What a race Monza was! The race was completely altered when Hamilton and Verstappen collided in a heated incident, which allowed for the unusual but deserved double-McLaren podium. After a difficult season for Ricciardo, adjusting to the new dynamic at McLaren, fans were thrilled by his win at the Italian Grand Prix. His elated expression when interviewed by DC post-race said it all. I couldn't be happier for Ricciardo, as well as Norris, who scored his highest ever F1 finish with P2. All around, a great race for McLaren and their drivers.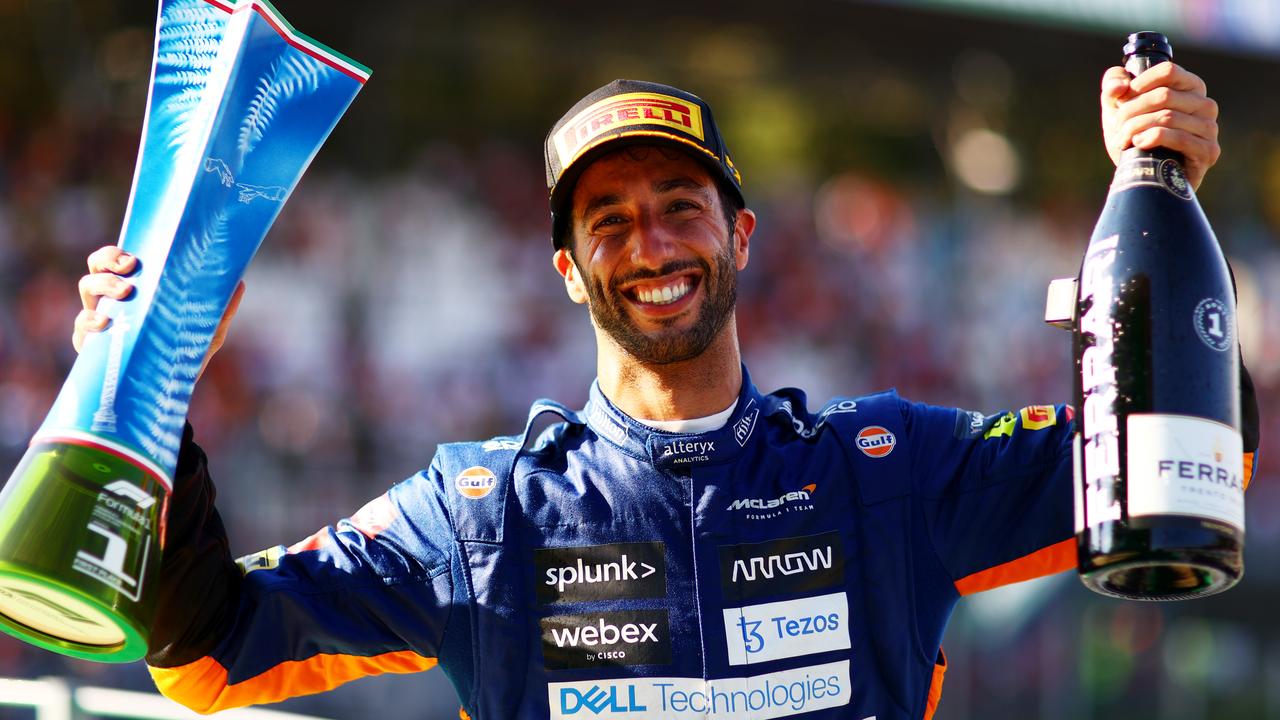 5. Russian Grand Prix – qualifying madness!
The 2021 Russian Grand Prix qualifying was about as crazy as they get, with Lando Norris and Carlos Sainz earning their highest ever starting position in F1. Norris took top spot with pole position, Sainz with P2, and Russell with P3. Hamilton hitting the pit lane entry wall, spinning on his final lap, and Verstappen out in Q3 meant that Sainz, Norris and Russell were allowed the chance to thrive in such a shocking manner. Legendary laps were put together by each of the three drivers – I've got nothing but massive respect for them. This was the type of quali session that only 2021 could produce!
---
Again, what a season! There were so many moments to pick from. I'd love to hear your thoughts in the comments below as to what your favourites were.
I was thinking one of these points would be a highlight from Abu Dhabi because no matter who won the title, it would be incredibly special. However, that race might need a post of its own!
Thank you so much for reading! Follow @otpwblog on Instagram if you haven't already for more content like this!